2022

Sprout / Hinge / Nap / Wobble.

Exhibition at EFA Project Space, co-curated with Marina Zurkow and Radhika Subramaniam. March 12-May 14, 2022

2021

re:Generation, avirtual exhibition by Field R/D artists at Freshkills Park.

With: Markley Boyer, Natalie Conn, Dufala Brothers, Sto Len, Jen Liu, Mary Mattingly, Lize Mogel, Nancy Nowacek, Antonio Serna, Joe Riley & Audrey Snyder. Hosted at

freshkillspark.art

.

2019 Museum Without Building: A Project by Yona Friedman, co-curated with Sylvie Boulanger (cneai=, Paris/Pantin) and Nicholas Vargelis, EFA Project Space, August 28-September 8, 2019

2018

2200 Acres: Field R/D Artists On Regeneration At Freshkills Park, co-curated with Mariel Villere,

July 23, 2018 FKP, September 29, 2018 FKP Studio & Gallery, NYC.


Artists: Billy & Steven Dufala, Mare Liberum, Mary Mattingly, Lize Mogel, Nancy Nowacek, Joe Riley & Audrey Snyder, with Natalie Conn and Markley Boyer.

Freshkills Field R/D

(Public Art Program co-curated with Mariel Villeré), Freshkills Park, NYC, 2017-8.



Research Residency and Exhibition

: Cape Cod Modern House Trust/Cape Cod National Seashore (NPS), Wellfleet, MA. Residency: 2017. Exhibition, CCMHT/Wellfleet, MA, May 2018.


Artists: Mark Adams, Jean Barberis, Joshua Edwards, Marie Lorenz, Nancy Nowacek, Kendra Sullivan, Jeff Williams, Lynn Xu, Marina Zurkow

2017

Resistance After Nature. Exhibition co-curated with Kendra Sullivan, Cantor Fitzgerald Gallery, Haverford College, PA, March 17 – April 28 2017.




Resistance After Nature presents multiple approaches to art and activism in the Anthropocene, where "nature" is understood as a force majeure increasingly propelled, but not controlled, by certain human activities–namely capitalism, colonialism, corporatism, nuclear proliferation, and the extractive industries. Though we are all at risk, climate change reinforces societal inequalities. Those least responsible for greenhouse gas emissions are most susceptible to climate chaos. Forced migration, pollution- related death and illness, and natural disasters unevenly disrupt the lives of those in a "risk society," while habitat loss and mass extinction decimate animal and plant life.

With so much at stake, what can at do? We argue that the artists in this exhibition powerfully push back against the geopolitical forces endangering the health of our planet and its most vulnerable inhabitants through critique, engagement, litigation, data collection, representation, direct action, and intervention. Reproducing nature and natural systems through diverse means, the assembled artistic practices powerfully subvert how the environment is perceived, constructed, managed, governed, and conserved on a global scale.

This work animates the entanglement between human and nonhuman subjects by granting agency to water, animals, minerals, plants, seeds, petroleum, and even ocean plastics. Leveling the ontological playing field, it upsets the order of Western exceptionalism that underwrites the exploitation of our planet for profit. The artists draw on legacies ranging from Land Art to intersectional feminism, anti-colonialism to Indigenous sovereignty, and grassroots organizing to public science. Their radical, collaborative, and visionary work feeds and fuels a cultural current of interrelated resistance movements.

Here, environmental art and activism act as platforms for the recalibration of broad social, political, economic, and ecological values. The actions taken by these artists to defend water rights, divest from the fossil economy, and protect the biodiversity of oceans and forests not only call for an end to the exploitation of our planet, but also for the fulfilment of a more just society. Resistance After Nature brings together forms of insurgent environmental art that assert that another world is possible: indeed, it is already here. We are making it together even now.

The exhibition is curated by Dylan Gauthier and Kendra Sullivan, and made possible by support from the John B. Hurford '60 Center for the Arts and Humanities and is organized in conjunction with the Hurford Center's 2016-17 Faculty Seminar, "Environmental Design, Sustainability, and Artistic Intervention," led by Markus Baenziger (Fine Arts) and Joshua Milton Moses (Anthropology/Environmental Studies).

Press:
The Art Blog
Title Magazine
---
2016

Alternative Art School Fair, Pioneer Works, New York, November 2016 (co-organized with Catherine Despont, Pioneer Works, Alexandre Gurita)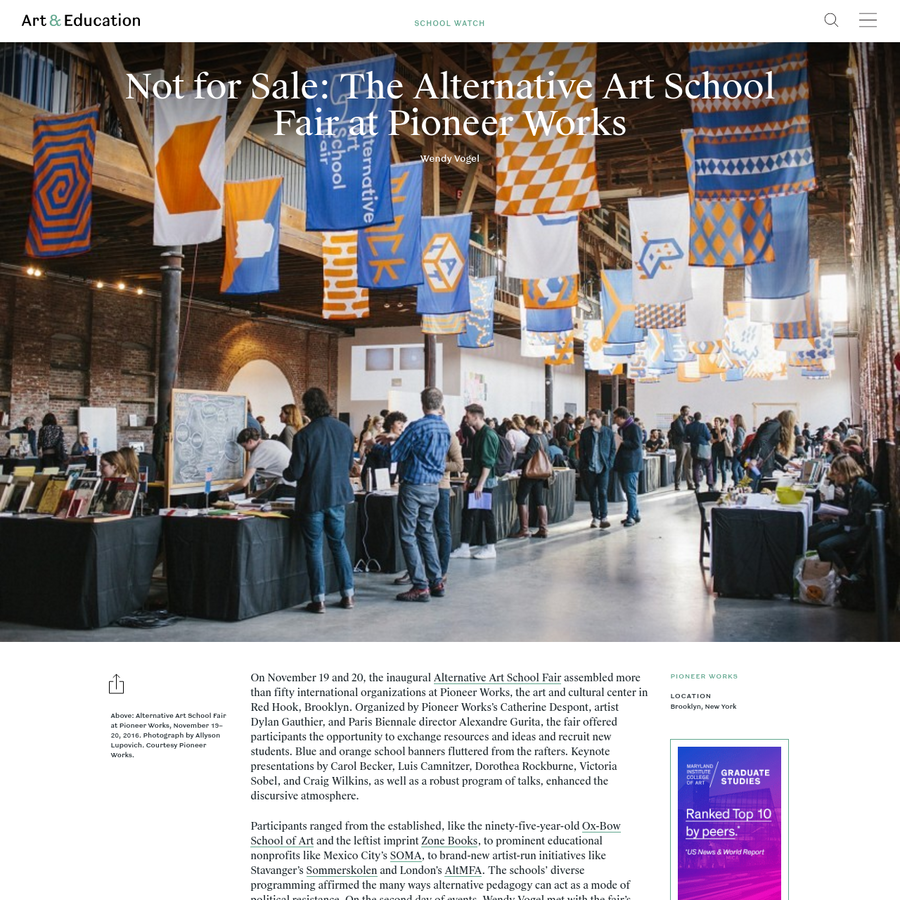 The Alternative Art School Fair presents an introduction to alternative art schools from around the US and the world.

Art education is a reflection of social and cultural evolution; it engages with structures of meaning-making and considers different frameworks for experience. The impetus to create an alternative art school is rooted not only in a desire to create "better" art, but to create the conditions for greater freedom of expression. Often run as free, artist-run initiatives, the values and visions of alternative art schools vary widely in methodology, mission and governance. But even when they are relatively small in scale they provide vital models of cultural critique and experimentation.

The Alternative Art School Fair event, including workshops, discussions, and keynote presentations by Carol Becker, Luis Camnitzer, Craig Wilkins and Dorothea Rockburne, will be streamed live and archived by Clocktower Productions on clocktower.org.

The Alternative Art School Fair recognizes that the act of school building is an effort to create institutional structures that are more responsive to cultural evolution. With this in mind the Fair invites the public to engage with these schools at interactive booths alongside a weekend program of presentations and discussions that examine the role of such alternatives.

The reasons for this fair are several:

To provide better visibility for alternative schools and improve access to their programming.
To create opportunities for schools to share experiences and resources for mutual enrichment.
To consider the role of the artist as cultural producer.
To discuss the evolving methodology of arts education.
To demystify the process of creating a school.

Criteria for participation:

Calls itself a school.
Engages arts or creative practice education within their programming.
Proposes something unique in terms of methodology, organization, mission, curriculum, final output.
If the school does not call itself an art school, it should propose something that can impact or transform arts education.
Is a space that generates alternative systems and new cultural models.

Press:

Hyperallergic
Artsy
ArtForum
NewInc
DigiCult
Blouin ArtInfo
Sculpture.org Blog
See also: Podcasts and panels from Alternative Art School Fair on Clocktower Radio
---
Thematic/Research Residency: Realizing an Urban Commons, Blue Mountain Center, New York, November 2016.

Co-organized with Kendra Sullivan and Chloë Bass: a thematic residency on the urban commons, or: how do we who are engaged in "producing and reproducing the city," as David Harvey has written, reinforce our "collective right not only to that which they produce, but also to decide what kind of urbanism is to be produced?" The cohort at BMC includes a grouping of writers, activists, civic hackers, caregivers, scholars, choreographers and teachers who incorporate mutual aid, commoning, place, urbanism, and local politics into their practice. As writer Fred Moten has said: "I don't wanna represent anything and I don't want to repair anything but I do wanna be here more in another way." During the ten day residency, the co-organizers invited practitioners to compare urban strategies for being here more in another way; from new forms of urban intervention; to rethinking health and ability in the context of the larger city; to building urban social spaces that strengthen the commons against gentrification and displacement and that embrace diverse identifications and possibilities.

Participating Artists: Tori Abernathy | Genji Amino | Daisy Atterbury | Teresa Basilio | Chloë Bass | Peter Cramer | Taraneh Fazeli | Dylan Gauthier | Samantha Hill | Lize Mogel | Antonio Serna | Kendra Sullivan | Jack Waters

---
2015
Curatorial Advisor: Private Nationalism: Pressing Issues in Central European Contemporary Video Art, December, 2015.


A video screening and panel discussion held at Knockdown Center, NYC. Co-presented by Edit András, Ilona Németh, Viera Levitt, Clakula-Gauthier Art production and Magdalena Moskalewicz.

Including the work of Tibor Horváth, László Nagyvári Nosek, Csaba Nemes, Bálint Szombathy (Hungary) /András Cséfalvay, Matej Kaminský, Ilona Németh, Martin Piaček, Tomáš Rafa, Mark Ther, Matej Vakula (Czech Republic and Slovakia /C.T Jasper. And Joanna Malinowska (Polish Pavilion of the Venice Biennial, 2015)

Private Nationalism Project was initiated by Approach Art Association, Pécs (project leader (Rita Varga) took place as an exhibition series at arts venues throughout Central Europe and beyond. Using visual artworks, discussions, and publications, the project directed attention to the urgency of totalizing nationalist developments of the former Soviet bloc by shedding light on overlooked issues of the daily life, and the subtle processes by which ideologies infiltrate and are absorbed into the citizenry.

---
2014

Utopia School, organized with Jamie Idea, Scott Rigby, Lena Hawkins, for Flux Factory. October 1 – 31, 2014.

Utopia School is a month-long social center* hosted at Flux Factory for the purpose of studying Utopian experiments throughout time, as well as practicing our skills towards building new free spaces and practices. These classes, screenings, discussions and games will be connected by the essential question: What kinds of information are useful for re-imaging the future? To us, utopias take the form of intentional communities, squats, community gardens, communes, and other initiatives geared towards communizing resources, (including those which don't self-describe as Utopian.) We hope these classes and explorations will help to document and further these specific knowledges.

---
Art in Odd Places Festival #10: FREE, co-curated with Juliana Driever, October 2014.

Art in Odd Places aims to stretch the boundaries of communication in the public realm by presenting artworks in all disciplines outside the confines of traditional public space regulations. AiOP reminds us that public spaces function as the epicenter for diverse social interactions and the unfettered exchange of ideas. Following its decade-long history of artful protest in New York City, Art in Odd Places 2014: FREE presents sixty-two projects that actively engage and respond to the history and heterogeneity of 14th Street. AiOP: FREE asks us to consider what it means to be autonomous in this milieu, with all of its surrounding conditions. Creating a test site for the possibilities and limitations of public space, AiOP: FREE prompts artists to highlight civil liberties, forms of exchange, and personal and collective freedoms in forming a critical idea of what our urban commons looks like, and how it functions. (Curatorial Adviser: Claire Demere; Festival Director: Ed Woodham)

Video: Installing 14th Street Flags with Johannes Rantapuska & Milja Havas

Participating Artists:
0H10M1KE & TJ | Clover Archer | BabySkinGlove | Big Head Brigade | Joseph Bigley | Maria Builes | Sarah Burrell | Melissa Calderón | Thiago Carrapatoso, Todd Lester & Niki Singleton | Tré Chandler & Jabari Owens-Bailey | Felipe Cidade | Concerned New Yorkers | Amanda Davis | Jim Dessicino | Anthony Donatelle | Nicky Enright | eteam | Fixers Collective | John Craig Freeman | Rory Golden | Kris Grey | Katya Grokhovsky | Leah Harper | Hannah Hiaasen | Jessica Houston | The Illuminator | Kaloyan Ivanov & Raúl Hott | Samuel Jablon | Jantar | Ienke Kastelein | Maskull Lasserre & Central Park Tours Inc. | Anabella Lenzu/DanceDrama | Amanda Long | Andrew McFarland & Emma Dessau | Mobile Print Power & Talk is Cheap | Laura Moore | Willard Morgan | Jody Oberfelder | Cupid Ojala | Joel Ong & Robert Blatt | Jenny Polak | Johannes Rantapuska & Milja Havas | Jen Reimer & Max Stein | Ben Retig & Marianna De Nadal | James Rojas | Caitlin Ryan | Jesse Eric Schmidt | Kara Schmidt | Jesse Seegers | Stephen Sewell | Maayan Sheleff, Eran Hadas & Gal Eshel | Jen Smith | Jeff Stark | Clark Stoeckley | Sasha Sumner & Nick Porcaro | Kevin Townsend | Matej Vakula | Emilio Vavarella & Daniel Belquer | Marieke Warmelink & Domenique Himmelschbach De Vries | Stefanie Weber | Brooks Wenzel | The WORK Intern

---
Older

Private Line, monthly reading & publication series at Gowanus Studio Space, co-curated with Kendra Sullivan, Megan Ewing, and Macgregor Card (2011-2013)

Co-curator with Galen Joseph-Hunter: Silence, January 31, 2007 – February 24, 2007

Co-curated with Galen Joseph-Hunter, Executive Director of free103point9/wavefarm, this exhibition focused on artists' uses of and responses to silence – as manifested in sculpture, installation, composition, works on paper, and time-based practices. The works on view address the futility of the chase, the beauty of absence, and the rich potential of an empty signal. Sound program: A Call for Silence, curated by Nicolas Collins. Courtesy Sonic Arts Network. Public Events at 4:33 pm every Saturday, with Michelle Nagai, Michael Graeve, Tianna Kennedy, others. Poetically, the exhibition turned out to be the final show at Gigantic ArtSpace which lost funding overnight – an early victim of the 2007/8 financial crisis.

Participating Artists:
David La Spina | Douglas Henderson | Douglas Repetto | James Woodfill | Jeroen Diepenmaat | Juan Matos Capote | Lee Ranaldo | LoVid | Matthew Burtner | Michael Graeve and Christoph Dahlhausen | Michelle Rosenberg | Pablo Helguera | Pierre Huyghe | Stephen Vitiello | Tarikh Korula and Tianna Kennedy

---
Curator: Special Reconnaissance_, November 09 2006 – January 19 2007

A group show investigating the construction of place at the intersection of conflict, narrative and memory. Blending elements of surveillance and performance, expedition and revelation, the exhibition asks: "How do we define place and how do we find ourselves in it?" Following the root of 'reconnaissance,' which is 'to take back the land,' the title of the exhibition takes the word back from the Department of Defense, just as these sixteen artists endeavor to retake place from the forces of ruin, oblivion and decay.

Participating Artists:
Carrie Dashow | Center for Land Use Interpretation (CLUI) | Darina Karpov | Darren Sylvester | Ellie Ga | Haley Hughes | J Henry Fair | James Howard Kunstler | Jenny Marketou | Red76 | Robin Treadwell | The Folk Songs Project | Vera Brunner-Sung

---
Assistant Curator/Associate Director: Gigantic ArtSpace (GAS), NYC (2004-2007)
American Panopticon – january 28 2005 – march 12 2005 – [opening] – [main gallery]
Palimpsests – march 25 2005 – may 01 2005 – [opening]
ACROSS and DOWN – may 12 2005 – june 25 2005 – [opening] – [main gallery]
YOUR SKY – july 07 2005 – july 29 2005 – [opening] – [main gallery]
Negativlandland – september 09 2005 – october 22 2005 – [opening] – [main gallery]
DRIFT – november 04 2005 – january 14 2006 – [opening] – [main gallery] – [performance gallery]
Artificial Afrika – january 27 2006 – march 17 2006 – [opening] – [main gallery]
Object Lessons – march 29 2006 – may 19 2006 – [opening] – [main gallery] – [catalog]
The Roving Eye – may 31 2006 – july 27 2006 – [opening] – [main gallery]
The Golden Hour – september 13 2006 – october 28 2006 – [opening] – [main gallery]